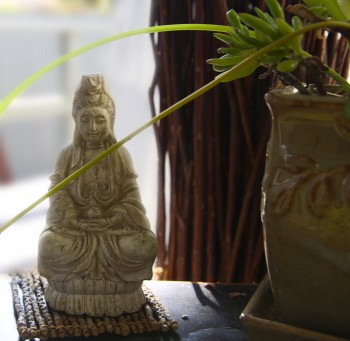 "Having worked with doctors in hospitals and medical clinics for 4 years, I learned that I did not subscribe to Western health for my general healthcare since it failed to address the person as a whole of the mind, body and spirit. I like acupuncture and herbal medicine because I can achieve better health through balance rather than the invasion of surgery or synthetic chemicals. Louella is a great guide and healer in my pursuit of this balance."
LC
"I was nervous about needles before my first acupuncture treatment. However, at this time I associate the statement "the more the merrier" with acupuncture because after a session I am in a state of euphoric bliss. I used to feel reoccurring pains in my chest and abdomen, and with acupuncture as my sole source of treatment, the pain has ceased. Now I thoroughly enjoy treatments for overall health and well being. Also, I believe that acupuncture can correct or at least significantly help with just about any challenge the body encounters from physical complications due to an injury or pregnancy to stress and anxiety or other emotional discomforts. I love acupuncture
and recommend it to everyone I know for optimal health. If I could get an acupuncture treatment every day I would!"
LW
"After stopping my regular birth control, I had severe irregularities with my menstruation. After a year of absent and irregular cycles, I saw a number of different doctors and specialists to try and get back into a regular cycle. None of the treatments they suggested worked, and the process of explaining my medical issues to different people in different offices was both emotional and stressful. I came to Louella after having worked with traditional/western medicine for over four months. In under two months, Louella's acupuncture treatments induced a period for me! I would recommend Blue Lotus to anyone, Louella is a kind and patient health practitioner, and more importantly, her treatments work!"
MD
"I was having pain and numbness in my arm and hand that caused me to stop doing massage, practicing yoga, and even made it difficult to write. After one treatment with Louella, I noticed a big improvement and, after about three more treatments, it was completely better! I'm so relieved that I came in when I did and now I continually see her for other health/emotional issues because, not only is she effective as a practitioner, but she is empathic, wise, and very caring. I love my acupuncture treatments and prioritize them weekly!
KE
"I injured my knee and thought the pain would never go away. With one visit to Louella, I was able to put my weight on it again and even play a soccer game a couple of days later. This was my first acupuncture treatment and I am definitely going back."
RR
"If you are considering trying acupuncture for the first time or switching to Louella Woodhouse to be your practitioner, I would highly recommend it!
I am a 44 year old male who is in the Health & Human Services field (a Life Coach) and I need to give a lot of myself to my clients. I know that it's critical that I have practices/sources to recharge my energy as well. Committing to seeing Louella & receiving acupuncture treatments is a vital step in being available for others and rejuvenating my soul.
I have been a client of hers for almost 3 years. I (like to) see her on a weekly basis and have done a wide range of work with her over that period of time. Louella has helped me overcome injuries, detoxify my body & maintain overall great health."
DB